Hey everyone. Happy Sunday! It's a very exciting day in the needlepoint community, as this is the weekend of Destination Dallas Market- a huge "cash and cary" needlepoint trade show down in Texas. The Kirk & Bradley and Burnett & Bradley girls (Needlepoint.Com's sister company) left Raleigh last Thursday and send me this picture of their room at the show. Doesn't it look dreamy?! So much needlepoint for sale!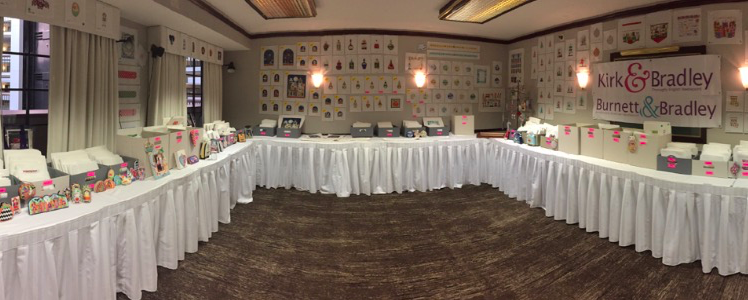 Even though I'm not there to shop this weekend. Melissa and Nancy (Needlepoint.Com's store manager and shop owner!) are there taking care of business. They've been hard at work picking up tons of new items that will be hitting the sales floor over the next couple of weeks. If you're in Raleigh, be sure to drop by and shop our new arrivals for yourself.
Since Destination Dallas is closed to the public, I've collected a few of my favorite new designs that have been released this past weekend. Here they are for you all to see!
1. Kirk and Bradley's newest series:
Remember Kirk & Bradley's famous Travel Round Series? Well, Vernon has done it again! This weekend K&B released their newest Sporting Round Series. They've got all tennis golf and horse enthusiasts covered. Wimbledon, Royal Ascot and St. Andrews are the first in the line, but rumor has it there may be some American sports destinations making an appearance in the future.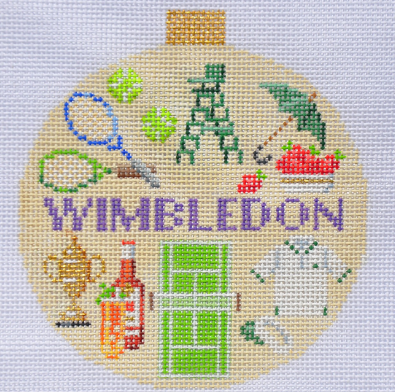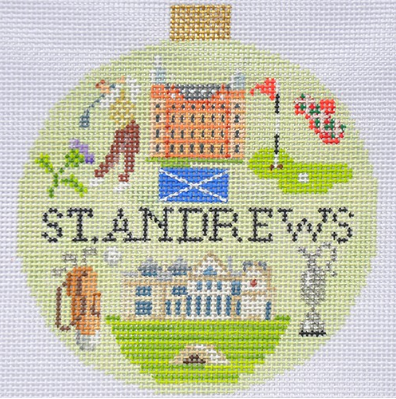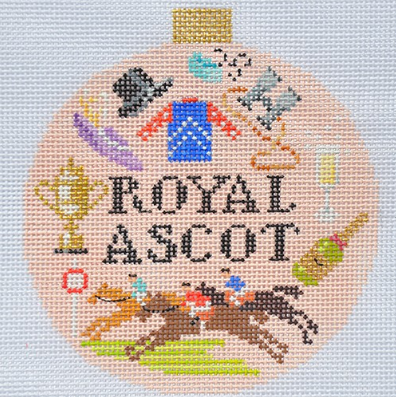 2. Pepperberry's new penguins: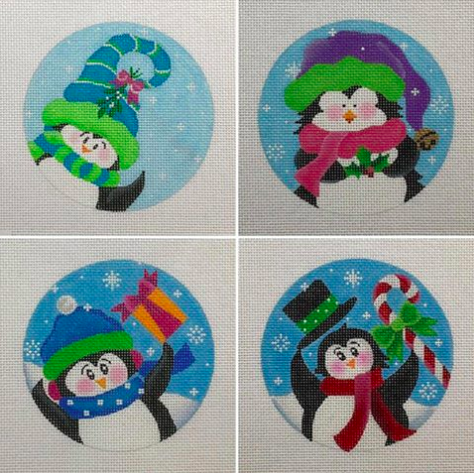 Everyone loves the snowmen that Pepperberry Designs is so well known for. But how about these new penguins. I think they're precious. (I think I may have to stitch that one with the candy cane and the top hat- he's just too cute!)
3. Melissa Shirley's new halloween hearts: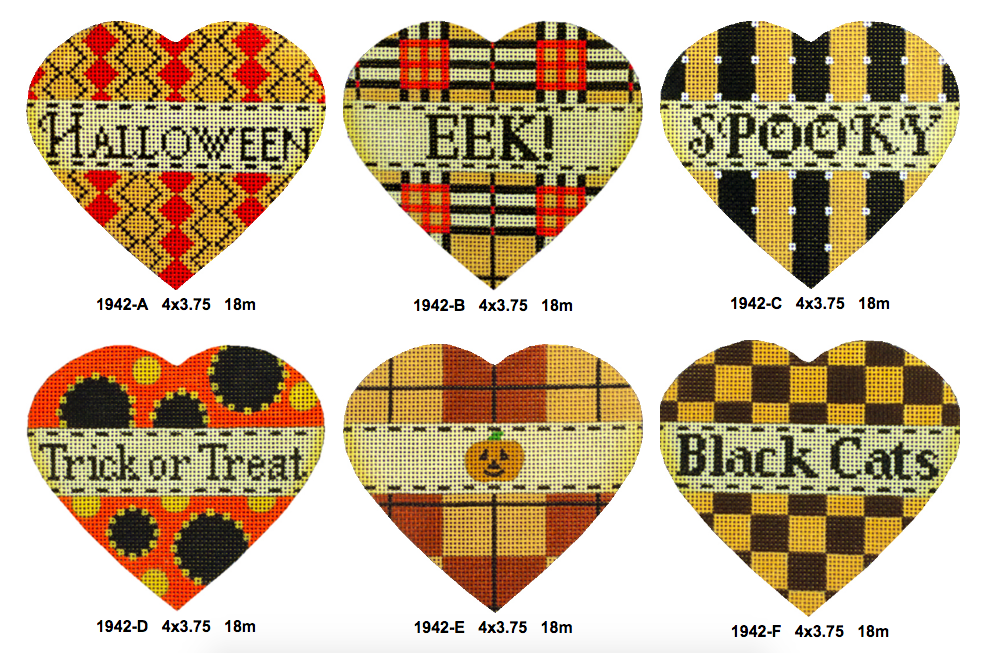 She also debuted a brand new artist this show: Este MacLeod. Her work is very folksy and the colors are wonderful and rich!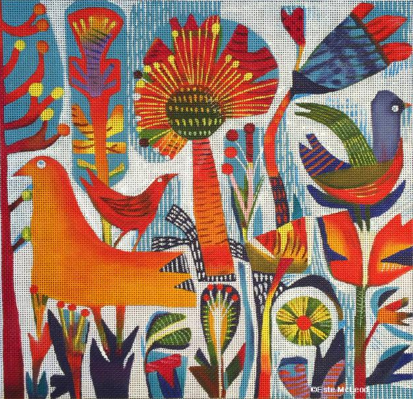 4. Lycette Designs New Staffordshire Dogs
I'm sure you all saw Lycette Designs new color ways of her Staffordshire Dogs last weekend in our giveaway. Jessica's designs are so fun and colorful… I still can't decide which is my favorite!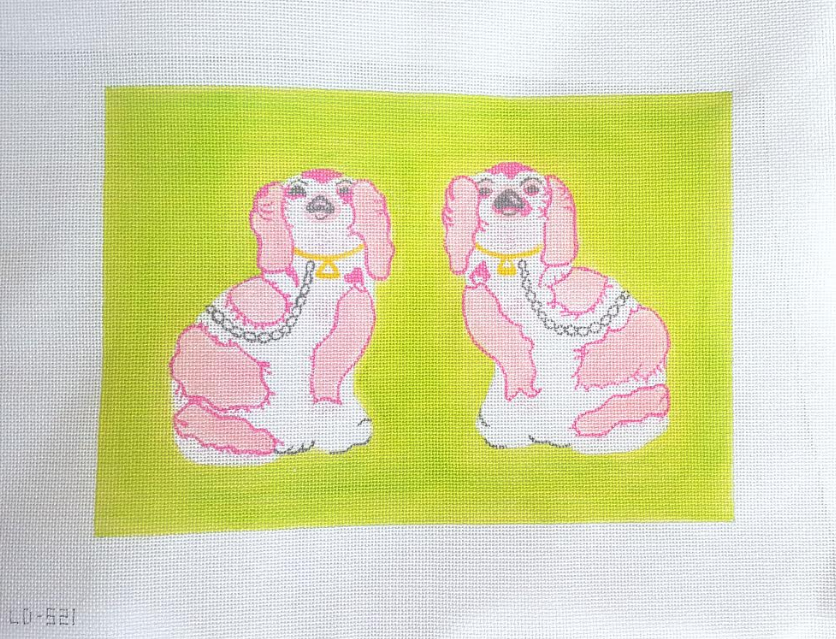 Jessica also released this beautiful new blue and white seashell canvas. It pairs beautifully with her green and pink coral canvas (pictured below with her precious pup!) Those of you who know me, know that I'm a total sucker for anything blue and white- so timeless and classic!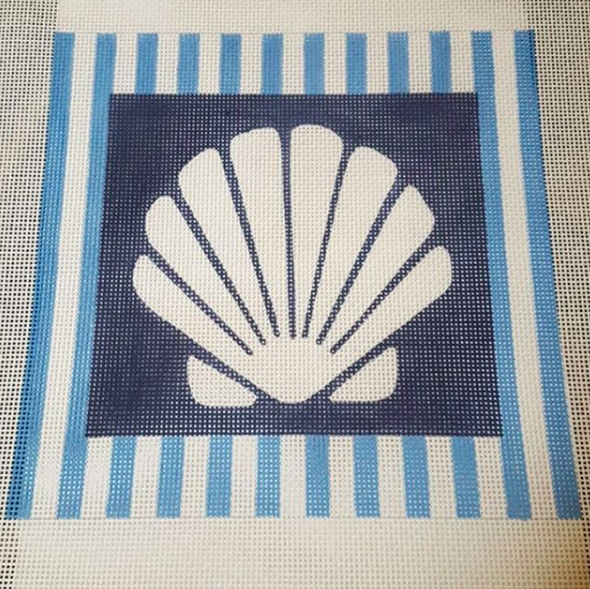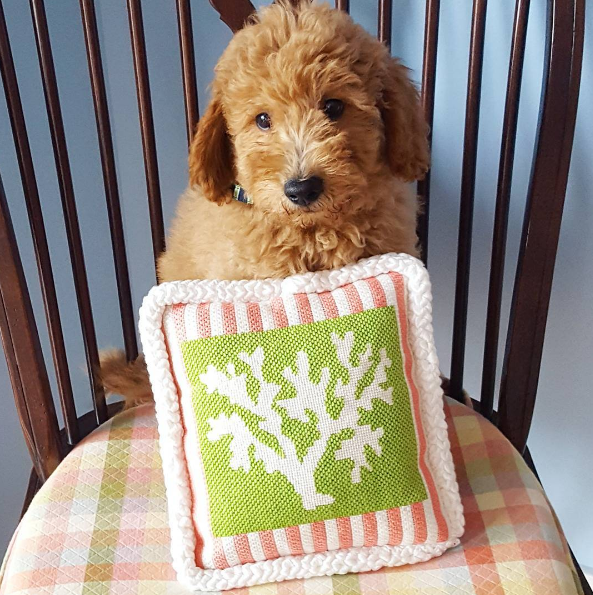 5. Associated Talents Needlepoint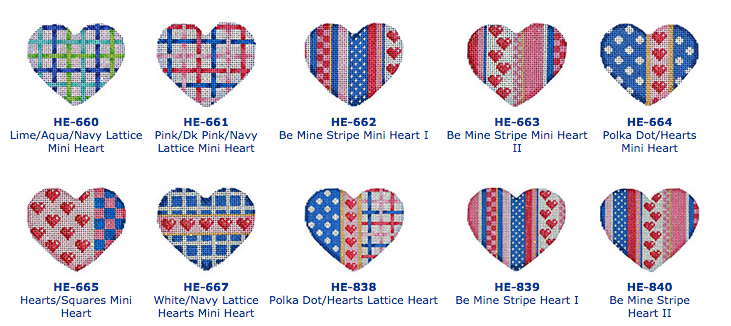 Thought these new hearts from AT Needlepoint were cute.  Love the pink, white and blue ones… summery and patriotic!
Hope you all had a wonderful weekend!