Hey everyone! Happy Saturday! I've got a real treat for you all this weekend. Today on Stitch Style I'm giving away this adorable Staffordshire Dogs Canvas.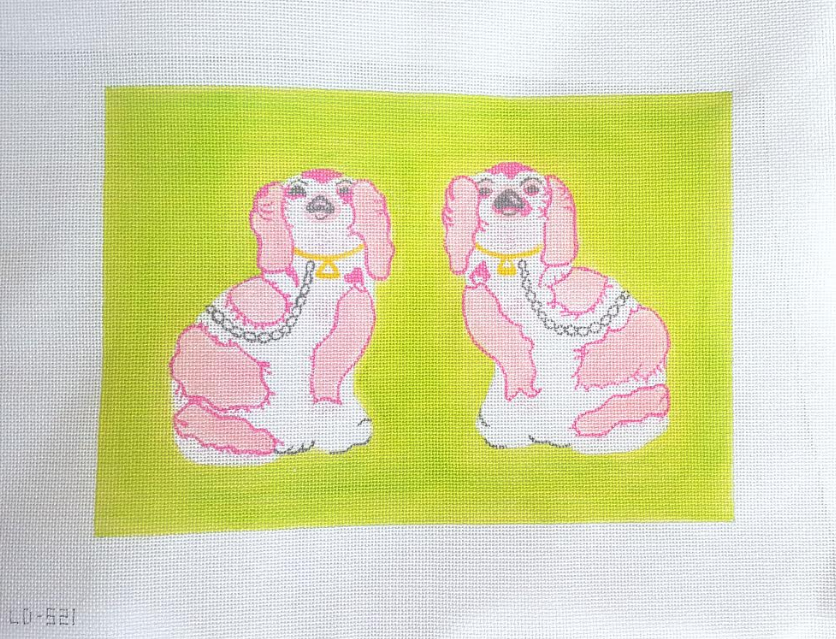 I was so excited when Jessica from Lycette Designs got in contact with me about doing a giveaway. She's a new needlepoint designer on the scene and I especially love that she's a "millennial" like me! It's so wonderful to see new faces in the industry!
One of Lycette Designs' most popular pieces of needlepoint is this Pink and Orange Staffordshire Dog canvas. This is one of my favorite needlepoint designs, and has long been on my personal stitching bucket list. We're constantly selling out of it at Needlepoint.Com! I  love that she has just come out with "Pink and Green" and "Blue and Orange" versions of the original.
Which version is your favorite? I don't think I can decide!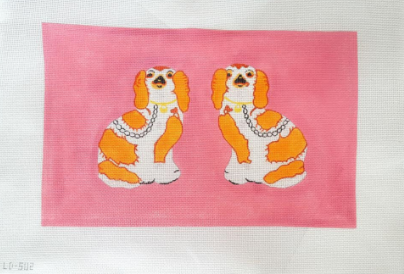 All three versions are definitely calling for an open background stitch- I think a stitch that resembled wallpaper would be so fun! Then, stitch the Staffordshire dogs themselves as mirror images of each other. Whatever stitch you decide to do on the right dog, do the reverse on the left. Maybe try a Gobelin Stitch for the body, and a Chain Stitch for the chains hanging from their collars. The collars themselves would look great beaded!
Here are the steps you need to take to win this "Pink and Green Staffordshire Dog Canvas"
1. Follow Lycette Designs on Instagram
2. Like Lycette Designs on Facebook
3. Subscribe to Lycette Designs Mailing List
(found in the upper left hand corner of her homepage)
4. Subscribe to Stitch Style Blog in the box on the right
It is important to note that this giveaway is for both old and new subscribers.
Once you have completed these steps (even if you have done so at an earlier date!), send me a message here on my contact page to enter.
One winner will be chosen at random one week from today on Saturday September 17th, 2016. Be sure to enter by Friday September 16th to ensure you are considered!