Hey everyone! Happy Friday! I hope you all have had a wonderful week!
I wanted to share a small ornament I finished this week, that I'm sure is going to look wonderful on our Christmas tree this year! Associated Talents came out with these "Alphabet Letter" canvases at this past January's market.  I really love stitching geometric designs with fun colors like these Harlequin Letters. They are really simple designs that have plenty of open space to try different stitches- very similar to the candy stripe baubles I stitched last year!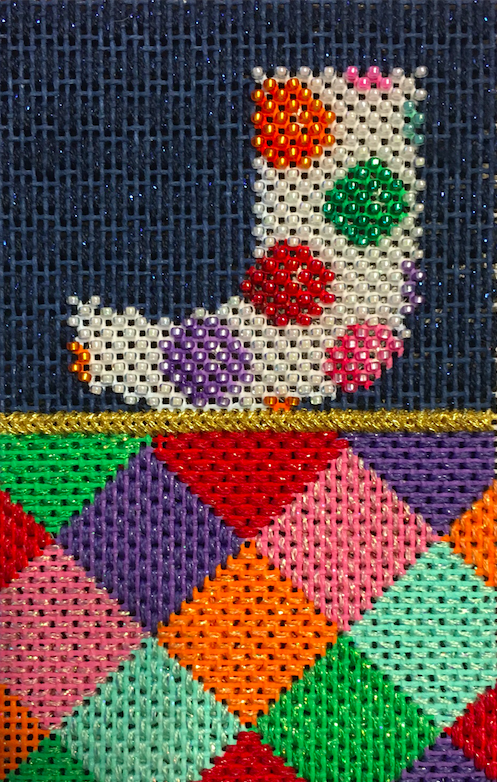 Since this design is available in any of the different letters in the alphabet, you could string them together to spell anything you wanted. I love the idea of "JOY", "ELF", "PARTY" or "NOEL" for the holidays. Plus, they could also be used to spell a child's name or your own initials! I opted for a simple letter "J" for "Jinny" (and "James"!) but it can certainly be finished into design that is 100% unique to you!
I stitched my background in Double Hungarian Stitch using Petite Silk Lamé Braid #SP16. The Gold Line was stitched in Fern Stitch using Kreinik #8 Braid #002HL. The Diamonds were stitched in Brick Stitch alternating Horizontal and Vertical using a combination of Kreinik #8 Braid and Petite Silk Lamé Braid (whatever I had in my stash at home!). The letter "J" was done in Brick Beading. I know I've shared this diagram before… but Brick Beading is such an easy way to add some glitz to your canvas and make a particular part really stand out.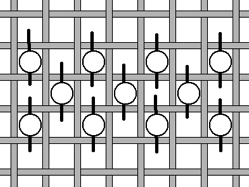 They are also available in a second color way that looks like this: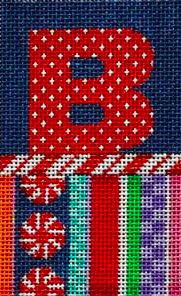 I'll be sure to share this Alphabet Letter a second time when it's back from the finisher and has been made into a hardback ornament!