Good morning everyone! Happy Martin Luther King day.
I hope you all are enjoying a relaxing morning like I am. It's nice to be home, and have some time to get some things checked off my to do list!
I was so excited when I woke up to a text message today from a friend, telling me that my Kirk and Bradley Circus Animals had been featured on Chilly Hollow Blog in a lovely article entitled "Life's a Circus at Virginia's House."
(You may remember when I posted about my Giraffe and Zebra, here).
Sadly this series has been discontinued, so get them now if you can find them! We have a few available in stock at The Enriched Stitch, and I think Needlepoint.com may have some left too.
Kirk and Bradley released an adorable updated version of the lion and elephant at January Market: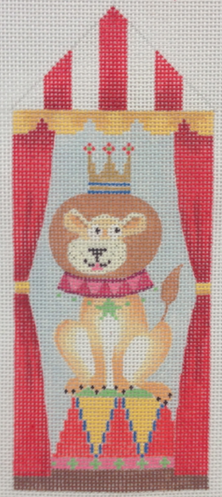 Look at how cute his little circus tent is!
This morning I've decided to share the progress I've made on the ring master. I'm really looking forward to finishing him up… look… I even bought leather garniture the other day to give him a real leather whip!
He's no where near being done, but it's always fun to share a work in progress too.