Good afternoon, everyone! It is so nice to feel like spring has finally arrived here in Connecticut! I love that I can now go outside and not have to bundle up in a winter jacket and scarf. Such a welcome treat since Easter is tomorrow!
This past week has been a whirlwind! But in between all the craziness I've been working away at this adorable design by Vicki Sawyer (Melissa Shirley Designs). It's titled "Who ate all the hors d'oeuvres?"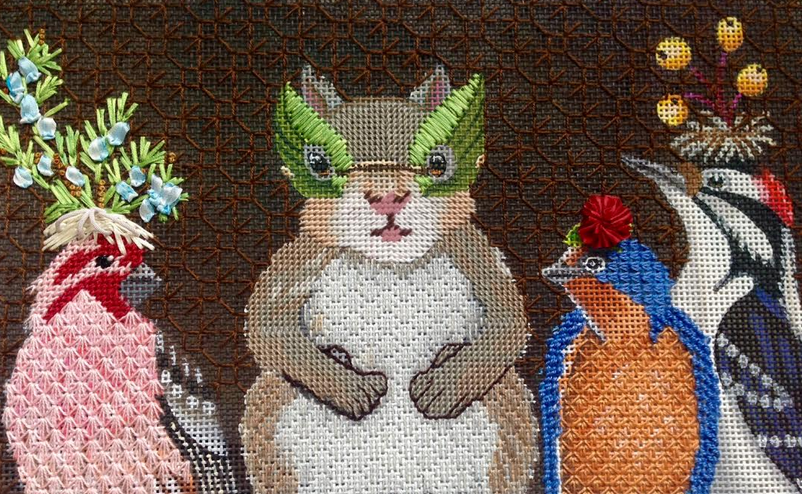 One of my favorite things about this time of year is that the birds come back from their winters away. I can imagine this very scene happening in my back yard! We have all sorts of critters swarming around the bird feeder. Let me tell you… those squirrels will do just about anything for food. (Look at how stuffed his little cheeks are!) I often find them hanging upside down by their feet so they can steal as much as possible from the feeder at once! Then inevitably my dogs run out of the house and chase them away… and the whole process repeats itself again…
I've used a ton of different threads on this canvas. But, I think that Impressions has to be one of my favorite threads to work with, since you can get so much detail with it- especially for animal fur and feathers. Plus some fun ribbon techniques on their hats. Obviously they're not done yet… but they're coming along (and the stitch guide is too)!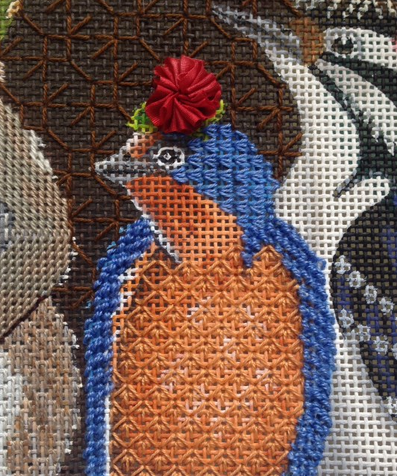 I hope you all have a wonderful holiday weekend, and have a chance to get outside and enjoy this glorious weather!
Facebook – Instagram – Pinterest – Bloglovin' – Twitter