Good morning, everyone!
Great news! James found an apartment! He's living with a friend of his who he rowed crew with at West Point and is very excited about the whole set up. I, on the other hand, am mostly just excited about the new walk in closet he has… not gonna lie… I wish it was mine!
In the spirit of the week, I've been working on this Silver Needle North Carolina round. It's just like the one I finished last Christmas with St. Louis on it.
As you can see, the ornament has several light houses on it, as well as the state bird, state flower and (most important of all) a North Carolina Tar Heel (my mom is a Chapel Hill alumna!)
It's tough to do too many complex stitches on such a small canvas, (there just isn't room!) but I'm planning on some ribbon work for the dogwoods and some beading for the center of the flowers and the state capitol.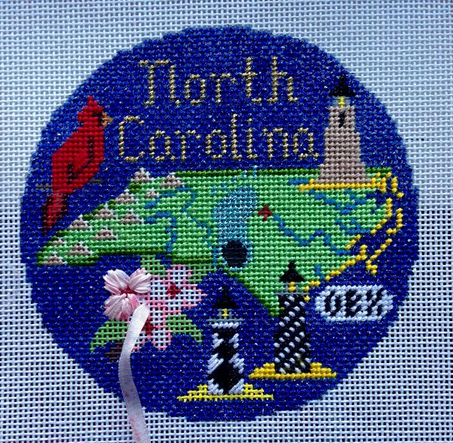 Silver Needle makes a variety of different rounds with "destinations" on them. I think one day, I'd like to stitch one for every place I've lived.
For more photos and updates from our trip, subscribe in the box on the right and follow along on Instagram!