O.K. friends I know this blog post couldn't possibly be more out of season if I tried. But today I'm sharing my Melissa Shirley Pumpkin Patch pumpkin "Louie." He's one of my many finishes during the two snowstorms we've had in the past two weeks.
For the most part, I followed Melissa's guide- with a few thread substitutions to fit what we had available in the store when I began him. He was 95% complete… and I had every intention of getting to the craft store to pick up the last few things I needed to finish him up. But then the snow hit, I was stuck inside and I wanted him done!
I had only really intended on stitching one of Melissa's pumpkins, but I found this picture online. Look at how wonderful all of them look together. I've never been a big halloween person… just not my favorite holiday. But I like that I could leave these guys out all fall long!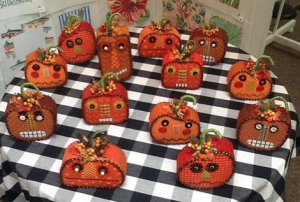 As much as I love to stitch "in season" so my projects correspond to the holidays as we celebrate them, I'd much rather have them home from the finisher in time to be enjoyed!
I was fortunate enough to make a visit to the Kirk and Bradley US Headquarters this morning… more on that in a blog post soon!