Welcome 2015, and Happy New Year, everyone!
This year has been a big year for me. I graduated from Boston University this past spring, and moved out of the city to Connecticut. In my personal life, I made a goal to spend more time to spend with my family and friends, and to be more active outside. Professionally, I became the manager of the Enriched Stitch and launched my new blog- Stitch Style! Everything is slowly starting to fall into place!
That being said, I'm so excited to see what the New Year will bring…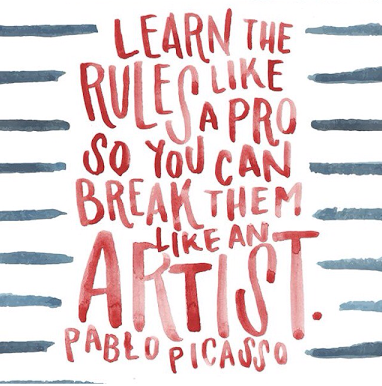 I found this painting of a quote by Pablo Picasso on Pinterest, and decided that it was the perfect goal to continue to strive for professionally in 2015.
"Learn the rules like a pro so you can break them like an artist"
I plan to apply this philosophy to everything I stitch in 2015. I can hardly wait to see all the new painted canvases coming out in the next few weeks at market. These new designs will hopefully provide an opportunity to not only continue to refine my technique, but also break some rules and have some fun along the way!
So, here's to a healthy, happy 2015… filled with much love, many new experiences, and lots of stitching!