Happy Monday everyone! Only three days until I fly to Arizona for Market, and there's so much I still have to do between now and then. Three days of work, lots of errands to run, and I haven't even begun to think about packing. It's hard to believe that this time next week I'll be on a plane back home to Connecticut. I'm sure it's going to be a whirlwind of a trip!
This morning I'm sharing something very near and dear to my heart.
If you've been reading along since the beginning, you probably know that this past spring I graduated with my Bachelors in Vocal Performance (Opera) from Boston University's College of Fine Arts. My first two years at school there, I kept myself very secluded within CFA. It wasn't entirely my fault though… my sophomore year I was taking 20 credit hours, and was required to be at many additional rehearsals for shows. If I wasn't in class, I was in a practice room singing.
I had gotten swept up in the chaos of everyday schoolwork, and wasn't taking any time to enjoy myself. Something was missing from my college experience, but I couldn't quite figure out what…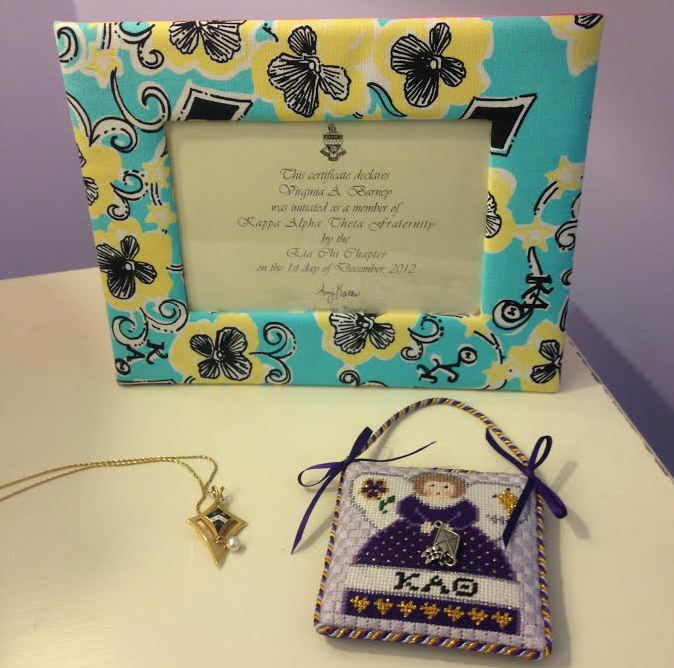 At the beginning of my Junior year, I decided to do something about it, but I had missed my opportunity to go through Formal Sorority Recruitment while I was an underclassman. One day I was in the Student Union, and notice that there was a new sorority being colonized on campus. I stepped out of my comfort zone, went through the recruitment process, and became a founding member of Kappa Alpha Theta Fraternity at Boston University! All of a sudden I found myself surrounded by so many fearless, hard working, and passionate women. Although none of them were musicians, they understood and supported the commitment I had made, because they were equally dedicated to their own careers.
Following my initiation into Theta, I stitched this Kappa Alpha Theta Angel by Painted Pony Designs. Isn't she darling? She wears a purple velvet dress and holds a little kite charm (which came with the canvas itself). Her wings have the fraternity's symbols on them: A pansy and a kite.
My initials, the chapter (Eta Chi) and our colonizing date are embroidered on the back, as a memento of such a special event.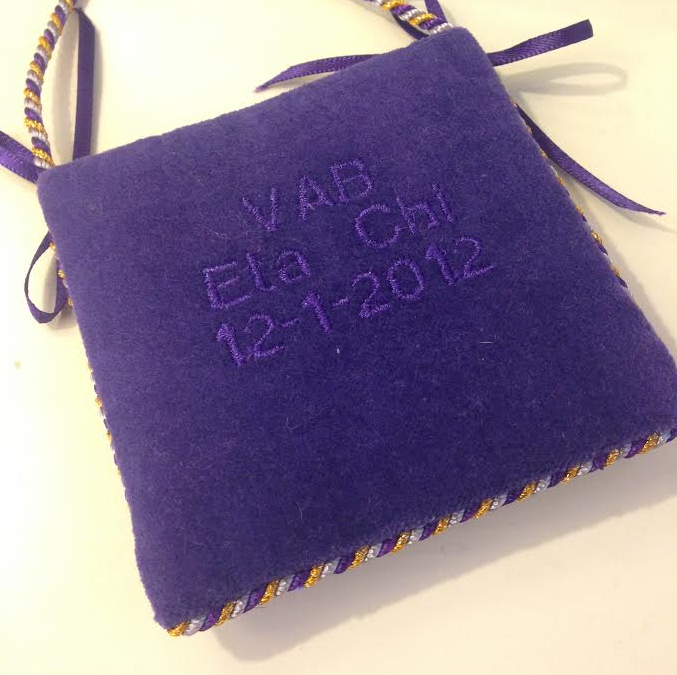 Now that I've graduated, she hangs from my dresser, as a little reminder of the Theta values that have become so important to me.
I love my Theta sisters, and I'm very proud to say I am a part of such an incredible organization of women.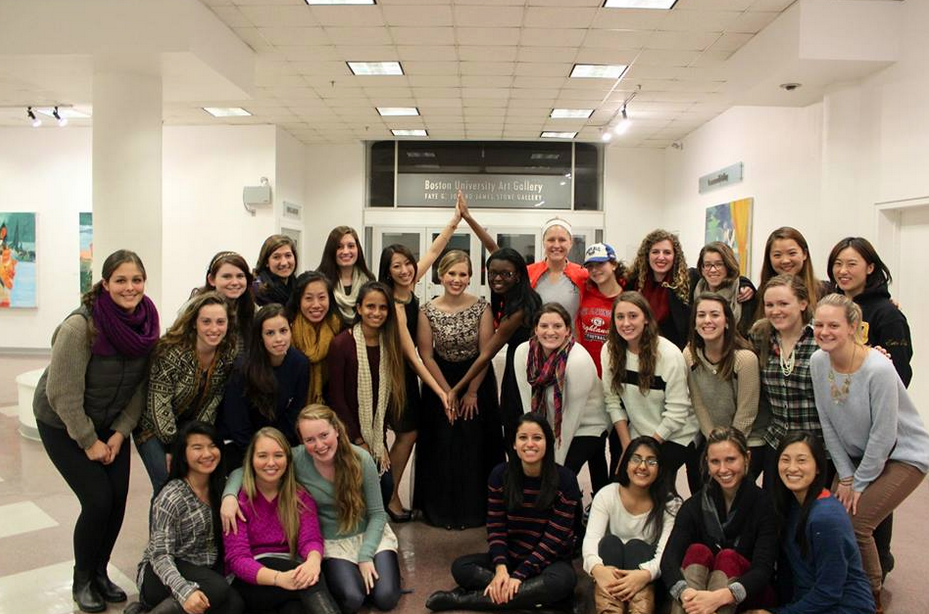 For more Stitch Style fun, follow along on Facebook, Instagram, Twitter, Bloglovin' and Pinterest!