Clearly we have a thing for circus animals in the Barney family…
I gave my sister Bella this adorable baby elephant canvas by Kate Dickerson for Christmas. Isn't he just precious, holding a little flag and standing up on that cute floral stool? It's no wonder I couldn't resist buying him for her…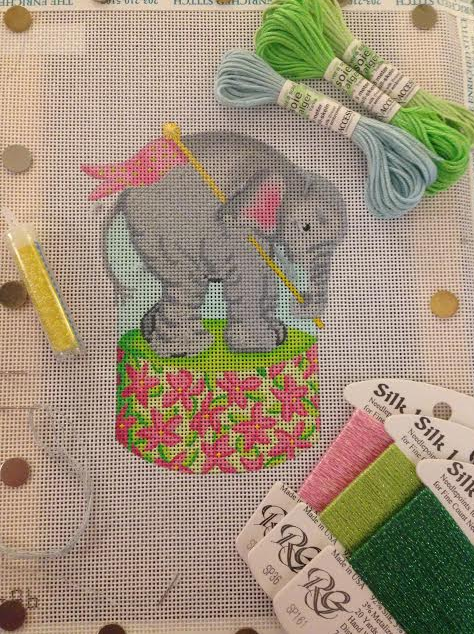 Bella is becoming quite the little stitcher. Look at how nice and even her basketweave is, and look at her away knots! I guess needlepoint runs in the family…
I think I'm going to teach her to do some lazy daisies in pink ribbon, with little yellow beaded centers. Plus, I think the Petite Silk Lamé Braid she has picked out will add just the right amount of sparkle to this canvas.
I don't know how she wants to have him finished off… maybe an ornament, maybe a standing weighted… anyone have any thoughts?
Either way, I think she's doing a wonderful job! I'm obviously a proud big sis!
For more needlepoint tips and techinques, follow along on Facebook,Instagram, Twitter, Bloglovin' and Pinterest!